Alkaline Greens
Regular price
Sale price
$8.00 USD
Unit price
per
Sale
Sold out
Local Pickup + Delivery Only
Sweet Greens
Highly alkalizing spinach is combined with naturally sweet green apples along with parsley, ginger cucumber and lemon. This blend is high in iron, vitamin C and essential minerals!
Apples help with breaking down toxins, lowering cholesterol, and helps with digestion. Apples are a great source of vitamin A, vitamin C, and potassium
Parsley is an antioxidant powerhouse and is rich in vitamins and minerals such as potassium, iron, magnesium, vitamin A, vitamin B, vitamin C, vitamin E, and vitamin K. It's nicely balanced with lemon, cucumber, and apple.
Spinach is rich in iron (almost twice as much as other greens).  The taste is very mild and it pairs nicely with other vegetables and fruits. Spinach is alkalizing and is rich in many essential vitamins and minerals. A real powerhouse!
Cucumber is high in vitamin A, B complex, vitamin C and folic acid. It's aids in cell hydration, regulating body temperature and eases inflammation.  It's high silica content also helps to alleviate skin problems, hair loss and strengthens nails. We love adding cucumber to our juices — it tastes mild and adds lots of mineral-rich water. 
Lemons are high in immune boosting vitamin C and help out with potassium and vitamin B6. They are highly alkalizing and are widely known for their detoxifying and antioxidant properties (hello pretty skin). Oh and if you are like me (a little anemic), all that vitamin C helps out with absorbing some of the iron found in the greens.
Ginger is a powerhouse in juices. Thanks to gingerols, ginger has powerful anti-inflammatory effects, aids in digestion and relieves bloating.
Share
Shipping & Delivery

Ground

 — $5 flat rate

2nd Day

 — $21 flat rate

Overnight

 – $34 flat rate
Our Promise

At Stephanie's Ginger Snap Shots ~ Every fruit and vegetable is hand selected to ensure that you taste every ingredient. We want the quality of juices and ginger shots to shine.

Our juices and ginger shots are hand crafted in small batches to ensure authentic freshness. It's what we call minimal processing.. We specialize in providing nutritious, clean juices/ginger shots made with integrity.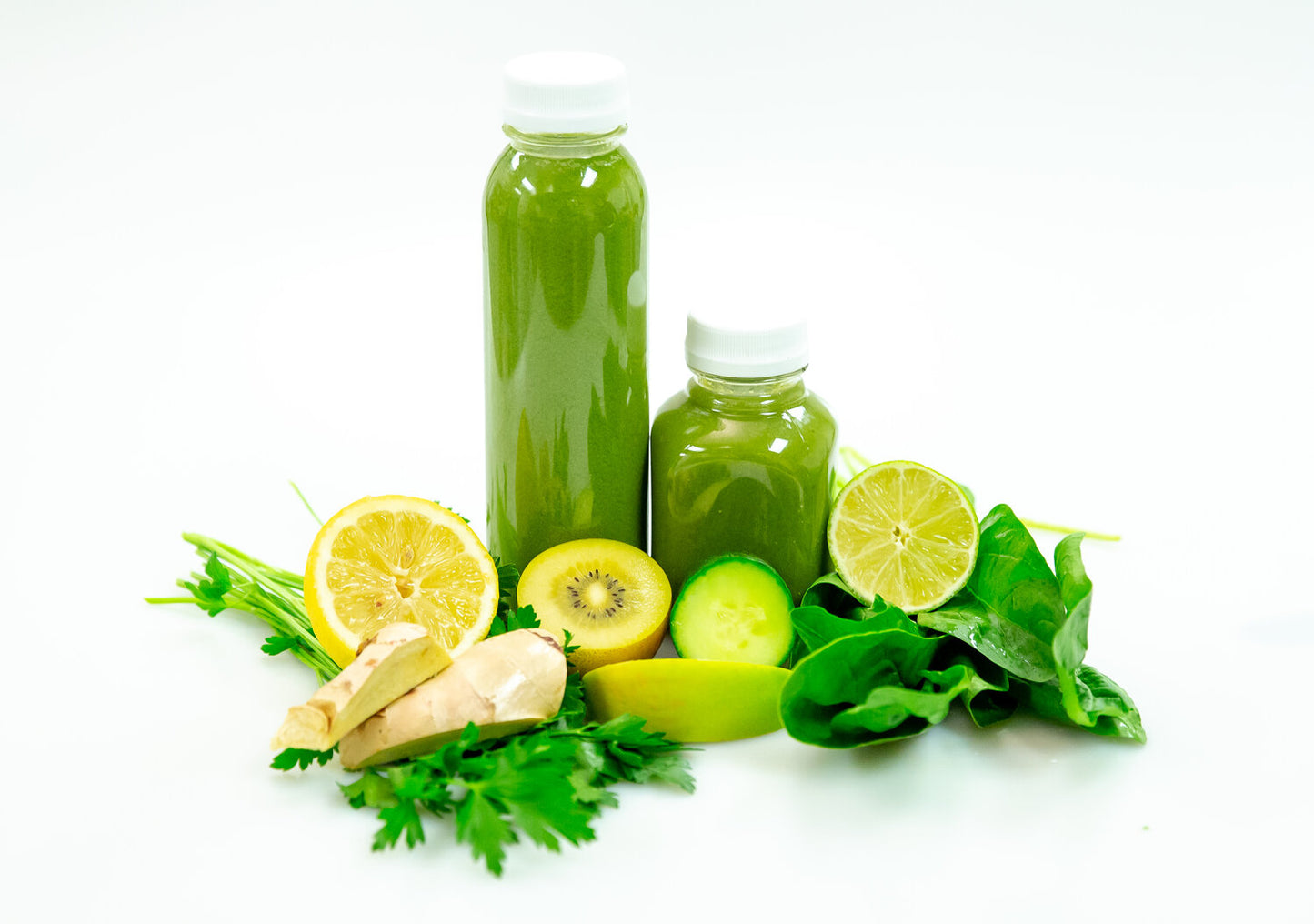 The Healthy Esspresso & Fresh pressed Juices
Our fresh pressed juices are blended with different fruit and vegetable blends to insure that they are nutritious but also delicious, affordable and accessible to everyone.
Natural

We only use the finest
natural ingredients.

Vegan

Our entire collection is vegan and cruelty free.

Healthy

The more colorful the food, the healthier it is.

Safe

Safe for you and your family.