Anxi-Tea
Regular price
Sale price
$15.00 USD
Unit price
per
Sale
Sold out
Local Pickup + Delivery Only
Anxi-Tea
Trying to find solace while you're in the constant state of doing. There's rarely a day that goes by that our to-do lists grow longer, and no matter how many things you cross off your list, there's something else to add to it. The daily goal should be to find the quiet,  allow ourselves moments of calm. Moments to help us relax better, sleep more deeply, give our days more structure when we're feeling chaotic.
Try having a tea date with yourself daily, especially when you're experiencing a little more turbulence than usual. If you can, create intentional space in your day to do so. The simple act of preparing yourself a cup of tea is in and of itself time spent in self-care.
Anxi-Tea is a creation of incredibly nourishing and calming plant medicines blended with dehydrated fruit to provide a hint of sweetness. Here's a list of all the potential health benefits of Anxi-Tea
Lemon Balm  
Rich in flavonoids (antioxidant). Contains vitamin C & thiamin (a B vitamin)
Oatstraw        
Incredibly high in magnesium!
Rich in vitamins & minerals, including calcium &B vitamins.
Rose Hip        
Incredibly high in vitamin C (although the hot water will
destroy much of it)
Lavender        
Contains vitamin A, calcium and iron
Chamomile    
Contains calcium, magnesium, potassium, vitamin A & folate
Pineapple
Rich in dietary fiber in the form of insoluble fiber. This type of fiber supports the digestive tract to make sure things run smoothly.
Lemon Peel
The fiber, vitamin, and antioxidant contents of lemon peels may support heart, immune, and oral health.
Opal Apples
Helps in managing diabetes. The healthy compounds that are found in dehydrated apples have positive effects on the blood sugar levels.
Share
Shipping & Delivery

Ground

 — $5 flat rate

2nd Day

 — $21 flat rate

Overnight

 – $34 flat rate
Our Promise

At Stephanie's Ginger Snap Shots ~ Every fruit and vegetable is hand selected to ensure that you taste every ingredient. We want the quality of juices and ginger shots to shine.

Our juices and ginger shots are hand crafted in small batches to ensure authentic freshness. It's what we call minimal processing.. We specialize in providing nutritious, clean juices/ginger shots made with integrity.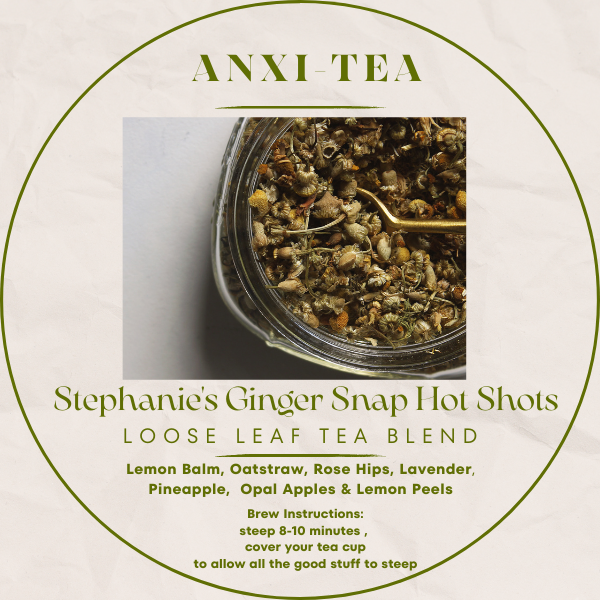 The Healthy Esspresso & Fresh pressed Juices
Our fresh pressed juices are blended with different fruit and vegetable blends to insure that they are nutritious but also delicious, affordable and accessible to everyone.
Natural

We only use the finest
natural ingredients.

Vegan

Our entire collection is vegan and cruelty free.

Healthy

The more colorful the food, the healthier it is.

Safe

Safe for you and your family.